---
Boyfriend's 12-Men Synchronized Mirror Dance Attracts Attention
Posted: 12 Nov 2012 07:55 AM PST
BOYFRIEND's Synchronized Mirror Dance became a hot topic online.
BOYFRIEND revealed their Mirror Dance on the 10th November during MBC 'Show! Music Core'.
On that day, BOYFRIEND in their full military outfit with golden touches danced powerfully with much synchronization. Their 180 degrees transformation in appearance to matured men with their cute charms caused the hearts of noonas to flutter in excitement and also caught the attention of many.Especially after their Synchronized Mirror Dance was shown. In the choreography for their new song 'Janus' choreography, the Synchronized Mirror Dance was when BOYFRIEND and their back-up dancers consecutively unfold themselves during their choreography formation. It's like mimicking an exact face-to-face imagery when looking at the mirror, after this choreography was broadcasted, it became a hot topic in the online communities.After the broadcast, netizens responded saying, "Synchronized Mirror Dance was cool. The image of a 12-Men synchronization", "Janus is seriously awesome. Synchronized Mirror Dance is awesome too", "Synchronized Mirror Dance is popular eh"
Meanwhile, BOYFRIEND's new song 'Janus' is a song that shows off new wave style music; with a glorious string of emotional melodious piano sounds, and groovy bass and completely matured vocals. The song about a man's two-faced expression as he locks away his heartache while sending away his girl with a smile.
Credits:
makwangboi.tumblr.com
Hyuna, "Sexual Controversies, Hard to Bear"
Posted: 12 Nov 2012 07:30 AM PST
Hyuna has confessed to her hardship due to her sexy image.
On November 11th of MBC 'Section TV Celebrity Entertainment', Hyuna expressed her thanks to PSY, " As I appeared on PSY's Gangnam Style, foreigners really get to know a lot about me. Even my comeback song, 'Ice Cream' MV has reached 20 million views on a famous video site."
Towards a question regarding her trademark pelvic dance, Hyuna revealed, "Regarding the so-called pelvic dance, it's not that you need a strong pelvic. You should do more thigh exercises", expressing her know-how to pelvic dance.
Regarding her sexy image which differs from her age, Hyuna expressed, "When I hear things about that, I just feel that it's funny" and, "That's because my real personality isn't like that at all".
Hyuna explained, "It was a little hard during my high school times (regarding the sexual controversies), that's the truth. I've thought of how I wanted to bear this" and, "Now, I think it simply as a talent of my own."
"My parents, originally, don't really talk about me to those around." and, "They said to me, 'You wanted to be a singer that is recognized by all' "
Hyuna explained, "But, recently, after I finished my schedule and went back home, there was a letter from my dad left on the table" and, "It wrote there 'My daughter rides on the popular wave, how many people are there looking for your autograph. I love you' "
Followed with, "As I read that, I cried, but I felt happy". Together with this, "Lately I heard that my parents boasted about their daughter to their friends for the first time. Their looks really made me teared up".
Trans: MrsDooB2uty @ loveindacube.wordpress.com
Posted: 12 Nov 2012 07:00 AM PST
Undoubtedly one of the strongest Korean rookie groups of 2012, EXO expresses their gratitude towards fans and SMTOWN seniors
Having big names such as TVXQ! and Super Junior as their seniors, 12-member Chinese-South Korean boyband EXO (divided into subgroups EXO-K and EXO-M for different markets) officially debuted in April under watchful eyes of the public.
Besides well-honed dance skills and an impactful title track, all these -- together with the huge debut hype fueled by SM Entertainment -- meant there was no reason for EXO to fail.
And succeed they did, with their debut EP MAMA ranking high on charts in both China and South Korea. According to Korean media, at the end of their two-month promotional period, MAMA has sold a remarkable total of 152,255 units (both EXO-K and EXO-M's versions).
In an exclusive e-mail interview with xinmsn, prior to their first performance in Singapore, EXO-M's Kris shared their gratitude towards fans from all over the world for their enormous support.
"Every time we meet the fans, we have so many things to say, but mostly we want to thank everyone for the support. We hope to work hard and show our appreciation through our wonderful performances."
EXO-K's Kai mentioned that before they debuted, they could only dance and sing by themselves, but now they are able to showcase their dance and singing in front of fans that enjoy the performance, making them really happy and appreciative.
As commoners turned idols, EXO-M's Lu Han cited the presence of fans as the biggest change as well.
"For this reason, all the members started taking care of our appearances more on daily basis," the Chinese lad added.
EXO also thanked their seniors for their advice and care. This is the first year EXO is taking part in the SMTOWN Live World Tour and preparing for the collaborations and performances allowed them to learn and build a closer relationship with their seniors.
Being the leader of EXO-K, Suho received a 'Leadership 101' class from TVXQ!'s leader U-Know Yunho and Super Junior's leader Leeteuk.
Yunho shared with him the importance of having charisma, where the leader should not lose his temper over small matters but enforce proper behavior and discipline on big mistakes. As for Leeteuk, he drove home the point that 'the team is one unit; it's beautiful when it works as one'. The SuJu leader also emphasized the need for a good leader to hold the balance and manage the team by listening and caring.
EXO-K's D.O. received handy advice from Super Junior's Ryeowook when he had to perform a duet with the latter. A bundle of nerves then, Ryeowook advised him to just enjoy the stage and not worry too much.
Having debuted for only seven months, EXO still gets the jitters each time they get on stage. The group boosts their morale by gathering together and shouting 'Saranghaja (to love)' before a performance.
EXO-K's Sehun elaborated, 'When we first debuted, we were focused on doing just a well prepared performance, but now that we further emphasize on going beyond what is expected, it makes it more intense.'
EXO will be making their debut appearance in Singapore for the SMTOWN Live World Tour III concert on November 23, and EXO-K's Baekhyun expressed their excitement over their virgin trip to our sunny island.
He mentioned they were told to visit the Merlion and added, 'Also, our seniors told us that Singapore fans really love and support SMTOWN so it motivated us to prepare a strong performance.'
With striking vocals, impressive dance moves and gorgeous looks, EXO is unarguably one of the strongest rookie groups of 2012. With such an explosive start, we can't wait to see what SM Entertainment has in store for them.
Kang Dong Won officially discharged from the military
Posted: 12 Nov 2012 06:40 AM PST
Actor Kang Dong Won has been officially discharged from the military after two years of active duty. To commemorate the event, the actor released a video as a gift for the fans who waited for him.
On November 12th, a video was released on YouTube with the title, "Kang Dong Won in a day." The video, which was recorded prior to Kang Dong Won's enlistment, showed the actor visiting several places in Seoul.
Kang Dong Won joined the army in October, 2010 and has been doing alternative service for about two years.
TVXQ tops Gaon's monthly album chart
Posted: 12 Nov 2012 06:20 AM PST
TVXQ has ranked first place on Gaon Chart's October Album Chart released November 9th.
According to Gaon Chart, the group's new album "Catch Me", released in September, sold 114,956 copies in October, pushing the group into first place. In September, the album sold 131,882 copies, putting the total sales so far at 246,838 copies.
However, Gaon Chart added that the album's title song "Catch Me", ranked 71st on the Digital Charts, in contrast with how well the album has been doing so far.
Meanwhile, Psy's latest 6th album including the megahit "Gangnam Style" sold 28,359 copies in October ranking 2nd. The album sold a cumulative 96,272 copies so far.
In third place was Epik High's 7th album "99" selling 27,161 copies, 4th place was G-Dragon's "One of a Kind" selling 18,722 copies in October and 190,234 copies cumulatively, and in 5th place was Tara's "Tara's Free Time in Paris & Swiss" selling 17,242 copies in October.
Source:
KBS
Psy's "Gangnam Style" goes Double Platinum in U.S.
Posted: 12 Nov 2012 06:00 AM PST
Psy's "Gangnam Style" has become a double platinum hit in the U.S. The Recording Industry Association of America announced on November 10 that the digital single had sold more than two million copies as of Friday.
The singer will stage a performance at the 2012 American Music Awards in Los Angeles this coming Saturday before appearing on NBC's "The Tonight Show" hosted by Jay Leno on November 22.
Psy, who has been on a promotional tour in Europe since November 5, participated in the MTV Europe Music Awards in Frankfurt on Sunday where the Korean star
won the Best Video Award
.
Source:
Chosun Ilbo
Big Bang successfully wraps up shows in the U.S.
Posted: 12 Nov 2012 05:40 AM PST
Hallyu group Big Bang successfully concluded their world tour in the United States.
After their Los Angeles concerts the previous week, Big Bang kicked off their 'ALIVE GALAXY TOUR 2012' in New Jersey on November 8th and 9th. Over 48,000 fans were in attendance for their concerts, which is the highest number that any Korean singers have ever got.
Such an achievement is more meaningful, as a tornado struck and left Big Bang scrambling to reach their concert venue. However, thanks to the enthusiasm and passion of the fans, the atmosphere during the show was hotter than ever.
A great number of local medias and press reporters also attended their concert including CNN, TIME Magazine, New York Times, Billboard, FUSE TV and more.
During the show, Big Bang performed 23 songs in total, and impressed many fans with their amazing talents. The boys also specially prepared stage outfits just for their concerts in America, giving fans value for their money.
Meanwhile, Big Bang will be having their show in Peru on November 14th.
Son Dambi celebrates comeback with "tearful" selca
Posted: 12 Nov 2012 05:20 AM PST
Singer Son Dambi, who just returned into the music scene after a two-year hiatus, has shared new selca to celebrate her comeback.
On November 12, Son Dambi posted the above photo on her official Facebook page and wrote, "I'm getting nervous for my comeback performance this week~~~".
In the photo, the singer stuck paper tears on her face while giving a sullen look towards the camera to further express her comeback title track. She also held up a sign that says, "Dripping Tears. Please support me with your love."
Earlier today, Son Dambi
release her 4th mini album 'Dripping Tears'
along with the full music video for her title song of the same name. The singer displayed yet another sexy transformation, heightening up anticipation for her comeback performance.
Taeyang got himself a new tattoo in New York
Posted: 12 Nov 2012 05:00 AM PST
Big Bang's Taeyang got himself a new tattoo!
On the 12th of November, Taeyang updated his twitter account and shared, "Tattoo session with one of the best tattooist in the world Anil Gupta" and shared a photo of him and Anil Gupta. He later followed saying "My first session just finished! I have to come back again. Thank you Anil, You are indeed the best artist".
He later shared a photo of himself sitting on a chair with his back facing the tattoo artist Anil Gupta as he inks' Taeyangs back. Big Bang is currently in New York for their World tour concert and looks like he grabbed the opportunity of being there to get himself inked by one of the best.
Source:
Nate
Written by: blueprincess824 @ dkpopnews.net
Netizen arrested for spreading malicious rumors against Wonder Girls' Sohee
Posted: 12 Nov 2012 04:45 AM PST
A netizen who has been spreading malicious rumors against Wonder Girls' Sohee has been arrested for slander.
Sohee's agency, JYP Entertainment, announced a netizen (referred to as "Mr. Lee") who consistently spread false rumors and insulting comments against Sohee was arrested. Mr. Lee was a 22 year old college student, and the police accused him for violating service network laws.
Since April, the netizen has been making sexually insulting comments to Wonder Girls' Sohee through three different Twitter accounts. JYP Entertainment has been requesting to delete the posts, but it is said that he rather made even further evil comments.
It is reported that Mr. Lee has posted over 150 sexually explicit statements about Sohee since June of 2011 in addition to other rumors he has tried to spread.
Source: StarN News
Netizens demand answers over IU situation through fan cafe
Posted: 12 Nov 2012 04:30 AM PST
The issue between IU and Super Junior's Eunhyuk is far from over.
The issue began when IU accidentally uploaded a photo of her and Eunhyuk on twitter and deleting it shortly afterwards, however netizens were quick to grasp the photo.
A fan cafe is quickly growing that goes by the name of "I-jinyo" where members of the fan cafe are demanding answers and the truth from the incident and relationship between IU and Eunyuk. The fan cafe's administrator however explained that they are not an anti-fan cafe. The fan cafe has already over 2000 members and quickly growing.
Netizens also commented about the fan cafe saying, "IU and Eunhyuk deserve to have their own privacy too", "This definitely looks like an anti fan cafe", "Before everyone loved IU now everyone suddenly doesn't like her".
Source:
Nate
Written by: blueprincess824 @ dkpopnews.net
Wonder Girls Hyerim and Sunye show off their friendship
Posted: 12 Nov 2012 04:00 AM PST
Wonder Girls' member Sunye and Hyerim show off their close relationship in their recent selca.
On the 12th of November, Hyerim updated her twitter account and shared, "With my lovely sister, Sun!" and shared a selca of herself and Sunye.
You can see them showing their quirky expressions for the camera and they are looking pretty with their make up and hairdo. Netizens commented, "When are they coming back to Korea?", "Lovely photo", "Looking at that photo makes me miss them even more".
Source:
Nate
Written by: blueprincess824 @ dkpopnews.net
Jun.K reveals a member of 2PM is currently dating
Posted: 12 Nov 2012 03:45 AM PST
Jun.K accidentally revealed that one of the 2PM members is currently in a relationship.
On the pilot episode of the tvN's reality show 'The Romantic & Idol' which was aired on November 11th, Jun.K got tangled in a sticky situation in a pre-broadcast interview, revealing that a 2PM member is currently dating.
Jun.K shared, "It's been so long since the members have dated anyone. Many people have seriously told me to start dating. Currently no member of 2PM is in a relationship." However, he suddenly added, "Oh, no. Actually, one member is dating."
The singer then realized what he had said, and he smiled while saying, "I've just been led to make a mistake."
IU and Eunhyuk's duet in 2009 gains interest
Posted: 12 Nov 2012 03:30 AM PST
A video of Super Junior's Eunhyuk and IU singing a duet together in 2009 resurfaces and gains a lot of interest now.
Recently, a certain video became the main topic of discussion and was shared on various online communities. The video was of IU and Eunhyuk back in 2009.
They performed "Letter to you" which was originally sung by MC Mong and Lyn and the video was taken last August 5, 2009.
Fans commented after watching the video,"A lovely performance","They performed really well","So sweet" and etc
Source:
Nate
Written by: blueprincess824 @ dkpopnews.net
Loen releases 'Ask in a Box' interview of B.A.P
Posted: 12 Nov 2012 03:15 AM PST
Rookie group B.A.P, who recently return with new catchy track "Stop It", has also participated on Loen TV's special interview titled, 'Ask in a Box'.
Released via Loen's official Youtube channel, the video showed B.A.P members answering various questions submitted by their fans. The Q&A session revealed the music video's concept as well as boys' characteristics, phobia and more.
Check out the clip below.
Psy performs Gangnam Style with supermodel Heidi Klum in MTV EMA's!
Posted: 12 Nov 2012 03:00 AM PST
The list of Hollywood stars and famous personalities who wants to perform the gangnam style dance with Psy just keeps on getting longer.
Recently, Psy attended the 2012 MTV Europe Music Awards which was held in Frankfurt, Germany. Psy was nominated in the "Best Video" category and he was announced as the winner.
For the show, Psy met famous supermodel Heidi Klum. Heidi Klum is the host of the award show and they performed the famous Gangnam Style dance together which brought much entertainment to the viewers.
Check out the video below and congratulations to Psy for winning at the 2012 MTV EMA's!
Source:
Nate
Written by: blueprincess824 @ dkpopnews.net
Lee Hyun releases "Keep in Your Heart" for 'The King of Dramas' OST
Posted: 12 Nov 2012 02:45 AM PST
Currently serving his mandatory military duty, 8eight's Lee Hyun has previously recorded a soundtrack for SBS new drama series, 'The King of Dramas'.
On November 12th, Lee Hyun's OST single "Keep in Your Heart" has been released online. The song, which features an uplifting and beautiful melody, will serve as the drama's main theme song.
'The King of Dramas' is about the various happenings when Anthony Kim who only thinks about money, rookie writer Lee Go Eun (Jeong Ryeo Won) who is full of humanity and Kang Hyun Min (Choi Siwon), a top star get together.
Check out the track below.
Park Bo Young releases "My Prince" for 'Wolf Boy' OST
Posted: 12 Nov 2012 02:18 AM PST
In addition to
John Park's "Childlike" single
, actress Park Bo Young also participated on the sountrack of her latest film, 'A Werewolf Boy' (aka 'Wolf Boy').
On November 12th, Park Bo Young released her single titled "My Prince" via CJ E&M Music. Getting much attention for her role in the movie, the actress also showed singing skills through her latest ballad.
Meanwhile, 'A Werewolf Boy' is about a dangerous creature, the werewolf (played by Song Joong Ki) who falls in love with a lonely girl (played by Park Bo Young) who closed herself to the world.
Orange Caramel sings Lipstick on Beautiful Concert
Posted: 12 Nov 2012 01:49 AM PST
Orange Caramel performs on Beautiful Concert,enjoy their performance below
Posted: 12 Nov 2012 01:01 AM PST
"Nice Guy" Song Joong Ki poses for Customellow
Posted: 12 Nov 2012 12:30 AM PST
Customellow collaborates with Song Joong Ki to release a brand new photoshoot.
Song Joong Ki is dressed in thick layer jackets along with formal suits, doing some cool poses with cold expressions, he shows off both his charisma and wild aura in "Nice Guy" and "Wolfboy".
Besides, Song Joong Ki will also attend an event organized by Customellow on November 16th.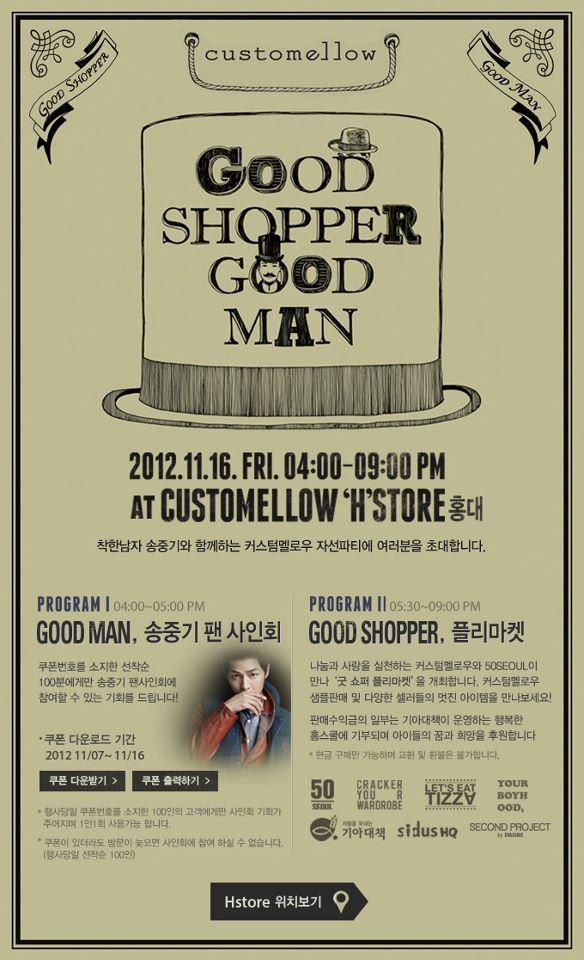 Check out for more photos below
SHINee's BTS video for Elle Girl
Posted: 12 Nov 2012 12:01 AM PST
Song Joong Ki and Park Bo Young greet fans on Pepero Day
Posted: 11 Nov 2012 11:30 PM PST
Song Joong Ki and Park Bo Young have taken a picture together on Pepero Day to congratulate "Werewolf Boy" for surpassing the 3 million mark.
According to the report by the Film Council on November 11th, 'Werewolf Boy' drew 537,948 audiences on November 10th, and it finally reached over 3,067,651 views counting from the premiere day, which has been reported as an incredible record. Such records for 'Werewolf Boy' is a tie with 'Yeongasi' (aka, 'Deranged') starring Kim Myung Min from back in July this year and 'Gwanghae: The Man Who Became King' starring Lee Byung Hun from September.
If 'Werewolf Boy' is able to keep up at this pace, it is expected to create a new record as the fastest and most successful film among Korean films in the melodrama genre.
Written By Clover @ DKPOPNEWS.NET
Gaon Chart releases rankings for the month of October 2012
Posted: 11 Nov 2012 11:00 PM PST
Gaon Chart is the national record chart of South Korea. It is complied by the Korea Music Content Industry Association with an aim to create a national chart for Korea similar to the Billboard charts and Oricon charts.
[Rankings for the month of Otober 2012 (October 1st - October 31st)]
Digital Singles Chart
1. Ga-In : "Bloom" : 115,479,048 Points
2. Epik High : "It's Cold" : 113,665,334 Points
3. K. Will : "Please Don't…" : 107,746,140 Points
4. Roy Kim and Jung Joon Young : "Becoming Dust" : 93,415,810 Points
5. Naul : "Wind Memory" : 84,780,235 Points
6. miss A : "I Don't Need A Man" : 76,586,499 Points
7. Ailee : "I'll Show You" : 75,170,372 Points
8. G-Dragon : "Crayon" : 67,297,846 Points
9. 10cm : "Fine Thank You And You" : 64,418,201 Points
10. Orange Caramel : "Lipstick" : 64,008,277 Points
----
Physical Album Chart
1. TVXQ : "Catch Me" : 246,838 Albums
2. PSY : "PSY 6th album Part 1" : 96,272 Albums
3. Epik High : "99" : 27,161 Albums
4. G-Dragon : "One Of A Kind" : 190,234 Albums
5. T-ara : "Tara's Free Time In Paris & Swiss" : 17,242 Albums
6. B.A.P : "Stop It" : 16,406 Albums
7. miss A : "Independent Women Pt.Ⅲ" : 13,153 Albums
8. Block B : "Blockbuster" : 13,124 Albums
9. Ga-In : "Talk About S" : 9,855 Albums
10. Naul : "Principle Of My Soul" : 40,368 Albums
Shinhwa's Shin Hyesung sells out year-end concert
Posted: 11 Nov 2012 10:40 PM PST
After
Lee Minwoo sold out his solo Christmas concert
, Shinhwa's Shin Hyesung has also sold out all the tickets for his upcoming year-end concert!
On November 10, Live Works Company revealed that all 8,000 tickets for Shin Hyesung's concert titled "2012-2013 SHIN HYE SUNG CONCERT THE YEAR'S JOURNEY" were completely sold out as soon as the ticket sales opened on November 9th at 8PM KST.
Shin Hyesung's agency's CEO said, "Thank you so much to the fans who showed great interest in Shinhwa's concert and Shin Hyesung's year-end concert. We prepared everything so that the fans could cherish the time as a great memory. We hope they will enjoy the show."
"2012-2013 SHIN HYE SUNG CONCERT THE YEAR'S JOURNEY" will be held at Kyunghee University's Peace Palace Hall on December 30 and 31. The singer will also release a winter album 'Winter Poetry' on December 4th.
Source: StarN News