---
Park Yoochun Shows Off His Amazing Chemistry With Oh Jung Sae
Posted: 10 Jan 2013 07:55 AM PST
Park Yoochun recently revealed that he is very close to actor Oh Jung sae.
On the 6th, Park Yoochun showed off his amazing chemistry with Oh Jung Sae in an interview with the Japanese media when he stated, "I can say with confidence that Oh Jung Sae and I are a match made in heaven," and "I like him so much that I find myself smiling, even just from looking at him, and we understand each other, even without a single word being spoken."
He also added, "I make the most bloopers when I'm shooting scenes with him, and it's always because we burst out into laughter. I enjoy acting with him so much," and "He's so great at acting and has a great personality, so he's a senior I have a lot to learn from. Add the fact that he takes care of me so well, and it really feels like I'm filming a buddy movie with him when we run through our lines together." He then proceeded to say, "When we exchange text messages these days, I call him 'my wife'."
In a recent interview, Oh Jung Sae praised Park Yoochun as he said, "He's an actor who is like a lifelong friend and my younger brother. It feels like I'm acting with a friend I've known for over ten years," and "We don't have a dividing line between how we act around each other on and off camera. He's a great actor, and he's also humble and well-mannered."
Source: [hankooki reviewstar]
Translated by: dongbangdata.net
Davichi's Kang Minkyung promises, "I will buy phones for all of SPEED this week"
Posted: 10 Jan 2013 07:30 AM PST
Davichi's Kang Minkyung promised to keep her commitment.
Davichi's Kang Minkyung featured in SPEED's "Sad Promise" and promised to buy mobile phones for all the members if the song could reach the top 10.
SPEED's "Sad Promise" ranked in the top 10 of MelOn's chart today, and fans were interested to know if she would keep her promise.
Minkyung said, "I couldn't believe a rookie idol group was actually were able to reach the top 10 before making their television debut. I didn't think SPEED could do it."
However, Kang Minkyung did contact SPEED's manager after it reached the top 10 and told him, "I'm going to buy phones for all of SPEED this week."
Source: http://news.nate.com.../20130108n16402
Translated by: Nathaniel @ Core Clique
Jaejoong's 'ONE KISS' Garners An Explosive Reaction With Its Emotional Lyrics And Sexy Vocals
Posted: 10 Jan 2013 07:00 AM PST
'ONE KISS' has been pre-released ahead of the official release of Kim Jaejoong's first solo mini album.
C-JeS Entertainment, the agency in charge of managing JYJ, released the audio of 'ONE KISS' on various online music sites at noon on the 8th. 'ONE KISS' is a sophisticated song that mixes an intense sound with sad lyrics that showcases Kim Jaejoong's melodious and husky vocal talent.
C-JeS stated, "Kim Jaejoong wrote the lyrics for all the songs on his album," and "He tried to fill the lyrics of 'ONE KISS' with emotional memories that everyone cherishes."
Kim Jaejoong's 'ONE KISS' has been met with an explosive response ever since its release. Not only were hundreds of comments made about Kim Jaejoong's vocal talent on various music sites and online discussions, but the song also topped music charts on Bugs and Cyworld Music as well as search rankings on various portal sites.
A representative stated, "Kim Jaejoong is an amazing vocalist with a husky yet melodious and charming voice, as well as a wide vocal range. Fans will be met with a variety of rock genre songs that are vintage, yet sensual and trendy, through the mini album 'MINE'. Kim Jaejoong sang like a free soul in this album."
Meanwhile, Kim Jaejoong will be holding his 'Your, My and Mine' concert at the Ilsan KINTEX on the 26th and 27th of January.
Source: [TVDaily]
Translated by: dongbangdata.net
Lee Jun Ki to simultaneously release new single in Korea & Japan
Posted: 10 Jan 2013 06:30 AM PST
Hallyu star Lee Jun Ki will simultaneously release a new single in Korea and Japan on January 29th.
According to his official fanclub (www.joongi-splendor.jp), the title song for the Japanese album will be "Tonight".
Other than "Tonight" which was immensely popular in Japan after the song premiered during Lee Jun Ki's fan meets held in Osaka, Nagoya and Tokyo last December, "Case by Case" and two other new songs will be included in the album.
Lee Jun Ki will be visiting Japan for promotional activities for his new album and he will hold a hand shaking event for album purchasers on Febuary 2nd.
Source;
KBS
2PM releases video teaser for 'Legend of 2PM'
Posted: 10 Jan 2013 06:06 AM PST
Currently gearing up for their upcoming Japanese promotions, 2PM has released a video teaser for 2nd Japanese album 'Legend of 2PM'.
'Legend of 2PM' will be out on February 13th. The album will contain 13 tracks including 9 brand new songs and 4 of their previously released singles including "Masquerade", "Beautiful", "If You are Here" and "Forever".
2PM is also set to hold two-day showcase titled 'Legend of 2PM in Tokyo Dome' on April 20th and 21st at the Tokyo Dome.
Check out the teaser below!
Ha Ji Won donates all proceeds from essay book
Posted: 10 Jan 2013 06:00 AM PST
Actress Ha Ji Won has donated all proceeds from her essay book 'Right This Moment' to different charities to help those in need.
'Right This Moment' is a self-penned collection of essays that reflects how Ha Ji Won was able to become a top actress and shares details on her past. It contains stories on her initial auditioning experiences, her adjustment to life as an actress and other turning points in her life.
According to Ha Ji Won's agency, the actress has donated all the proceeds from the essay book. One of the recipients, Choi Kyung Joo Foundation said, "We will use the donated money in helping those who have special talents in arts and sports."
Ha Ji Won commented, "I always felt grateful for so much support that people showed for my essay collection. I always wanted to give love and support for those who are in more need than I am, and I am very glad that that I finally got a chance."
Big Bang and 2PM ranked under Oricon's Best Concerts
Posted: 10 Jan 2013 05:30 AM PST
Idol groups Big Bang and 2PM were both honored by Japan's Oricon charts under 2012's Best Concerts.
According to the Oricon website on January 9th, the two groups were listed within the top 11 concerts that took place in Japan last year.
Big Bang held shows from last May for their 'Big Bang Alive Tour 2012 In Japan', while 2PM held their six-show '2PM Live 2012 Six Beautiful Days' tour in Japan.
Other acts that made it onto the list included Namuro Amie, Yamashita Tatsuro, Oda Kazumasa, and Perfume.
The top 11 concerts were chosen by Oricon's editor who attended 141 different concerts in Japan and screened through them carefully for the highest-quality shows.
Source:
KBS
'Strong Heart' to hold last filming on January 17
Posted: 10 Jan 2013 05:00 AM PST
SBS' well-loved program, 'Strong Heart' will hold its last shoot on January 17.
A representative stated that 'Strong Heart' will be discontinued after producer Park Sang Hyuk, who has been directing the show for three years, announced that he will be leaving the country. And as the abolition of the program was decided, MC Lee Dong Wook will be taking off of the program.
SBS is said to be considering a variety of options such as modifying the show or replacing 'Strong Heart' with a new show. However, media outlets have reported that another show, which was created by producers Choi Youngin and Shin Hyo Jung, has been set up and may take over the current time slot of the show.
It has been revealed that Shin Dong Yup is currently being considered for the MC role for the new show while Lee Dong Wook confirmed to be leaving variety show in order to continue his career as an actor.
MYNAME hosts own cooking show in Japan
Posted: 10 Jan 2013 04:30 AM PST
MYNAME will be hosting on their own cooking program in Japan!
According to H2 Media on January 10th, MYNAME will star in a new program on Japanese channel Tokyo MX titled 'MYNAME's W Kitchen'. The show will feature two teams that will compete against each other in cooking battles to introduce Korean cuisine to Japanese audience.
It has been revealed that MYNAME will be hosting the show with AKB48's Nagao Mariya. The show has already premiered on January 7th, and will broadcast every Monday on Tokyo MX.
Moon Geun Young celebrates her drama character's birthday
Posted: 10 Jan 2013 04:00 AM PST
Moon Geun Young received birthday wishes from her fans who remembered her drama character Han Se Kyung's birthday.
On January 10, Namoo Actors unveiled a new photo of Moon Geun Young behind the scenes of her drama 'Cheongdamdong Alice.' In the photo, the actress is seen wearing a thick padded coat while holding up a birthday cake.
However, the day wasn't Moon Geun Young's actual birthday. At the beginning of the drama, Han Se Kyung's resume has been revealed, and the actress' loyal fans prepared a birthday event for her fictional character.
Netizens commented, "No one would have known if it weren't for a fan", "That's overwhelming", "That is her birthday", "Moon Geun Young looks happy" and more.
Miss A's Suzy went to karaoke with her friends
Posted: 10 Jan 2013 03:40 AM PST
Photos of Miss A's Suzy went to karaoke with friends at her hometown were revealed.
An online community posted some photos of Suzy and her friends with title,"Miss A's Suzy with her friends in Gwangju 2 years ago". The photos were taken near the end of 2011 when Suzy finished her drama "Dream High" and she went back to her hometown for a vacation.
In the photos, Suzy is seen wearing casual clothes like a normal high school girl, posing along with her friends. Suzy and her friends were at a karaoke, they seems were having so much fun, especially Suzy was always showing a happy smile and doing various v sign in those photos.
Fans commented,"Suzy looks like a little high school girl","She's so cute","I'm curious about her daily life", and so on
Written By Clover @ DKPOPNEWS.NET
Joo Won, Chansung and Son Jin Young pose as agents for '7th Grade Civil Servant'
Posted: 10 Jan 2013 03:30 AM PST
MBC new drama '7th Grade Civil Servant' has revealed a 007-pose still cut of 2PM's Chansung, Joo Won and Son Jin Young. The drama is highly anticipated for its casts of the three attractive guys: Charismatic Chansung, a.k.a. the Wild Idol, a rising sexy guy Joo Won, and a naively honest Son Jin Young.
The still cut that has been revealed includes Chansung's tough aspect with the black suit and Joo Won's charismatic aspect with the gray suit, making the photo much more attractive. The two actors, standing on the red carpet, are very neatly dressed, so that they remind of the celebrities who get camera flashes at a year-end award ceremony and are appealing to the female fans.
Demonstrating a typical secret agent's all-black outfit, Chansung will fully prove his merits as a Wild Idol. As Chansung plays the role of 'Do Ha Gong,' a level-headed, decisive secret agent with a gifted brain, it is highly expected about how he will show 2PM's captivating charisma in the upcoming drama.
'7th Grade Civil Servant,' an action and romantic drama that draws a story of the new NIS (The National Intelligence Service) agent, who lies about everything but love, is a follow-up of '보고싶다' and will be broadcasted at 9:55PM on January 23rd.
Source: JYP Entertainment
TVXQ Yunho's fans donate 20 Tons of rice wreaths for his drama
Posted: 10 Jan 2013 02:49 AM PST
Domestic and overseas fans of TVXQ's U-Know Yunho (Jung Yunho) have donated a large amount of rice wreaths.
TVXQ's fans donated Dreami rice wreaths to be showcased at the 'Queen of Ambition' press conference on the 9th of January to support U-Know Yunho's role in the SBS drama.
The rice wreaths came from fandoms in thirteen different countries that included China, Japan, Taiwan, Hong Kong, Malaysia, Philippines, Thailand, USA, Russia, Peru, Spain and Kuwait, as well as international fanclubs, bring the total to 19.622 tons of rice and 500 packs of ramen.
19.622 tons of rice can feed 160,000 people one meal and will be donated to foundations for people in need that are chosen by U-Know Yunho. The international fans of TVXQ's U-Know Yunho have previously sent 3.83 tons of rice wreaths for the singer's participation in the musical 'Palace/Goong' in September, 2010 and set the mark for future rice wreath donations to support musical actors.
The rice wreaths that were donated to U-Know Yunho's musical were donated, at the request of U-Know Yunho and his fans, to Gwangju's Shinaewon, Hwaengsung's Songdeoksa, the Salvation Army, Gwangju's foundation for severely disabled people and the Saenal School.
Fans also sent 700kg of rice wreaths (2 tons of Korean rice) to support U-Know Yunho's role in 'Gwanghwamun Love Song' last November in Osaka and on the 1st of this month in Tokyo.
Meanwhile, SBS's new Monday-Tuesday drama 'Queen of Ambition' will begin airing on the 14th of January at 9:55pm.
Source: [newsen]
Translated & Shared by: dongbangdata.net
130110 Girls' Generation wins on 'M! Countdown' + Other Performances
Posted: 10 Jan 2013 02:22 AM PST
Mnet's "M! Countdown" is back this week full of amazing performances!
The January 10th episode of the show was hosted by SISTAR's Soyou and Boyfriend's Youngmin and Kwangmin. Tonight's show features comeback performances from Boyfriend and Kim So Jung as well as debut stages of Brown Eyed Girls' JeA (as solo), INFINITE-H and Airplane.
Other performers tonight included Yoo Seung Woo, Big Star, GLAM, Hello Venus, A-PRINCE, Hi.ni, Dick Punks, Sunny Hill, December, Baek Ji Young and Girls' Generation.
And for the highlight of the show, Girls' Generation claimed its first win on this week's chart with latest title track, "I Got A Boy"!
Congratulations Girls' Generation!
Tonight's Performances:
Yoo Seung Woo
--
Big Star
GLAM
Airplane (Debut)
Hello Venus
A-PRINCE
Hi.ni
Dick Punks
Sunny Hill
December
Baek Ji Young
Girls' Generation
Watch tonight's debut and comeback stages below:
INFINITE-H - "Special Girl" + "Without You"
Brown Eyed Girls' JeA - "While You Were Asleep"
Boyfriend - "I Yah"
Kim So Jung - "Beautiful Love"
INFINITE-H debuts with "Special Girl" on 'M! Countdown'
Posted: 10 Jan 2013 02:12 AM PST
INFINITE's first sub group, INFINITE-H, finally kicked off its much-awaited debut on 'M! Countdown' with new hip hop track, "Special Girl".
Backed up by a heavy hip hop beat, Dongwoo and Hoya are in full swag mode as they rock the stage with Primary-produced track. Not only that, the unit group boasts the album, having influences from hip hop heavyweights including Dynamic Duo to Zion.T, Bumky and Babysoul.
The sub-unit is comprised of Hoya and Dongwoo and the H in INFINITE-H stands for Hip Hop. They will be bringing out music that will showcase their special charms and broaden INFINITE's music spectrum.
Check out their performance below!
Brown Eyed Girls' JeA makes solo debut with "While You Were Asleep" on 'M! Countdown'
Posted: 10 Jan 2013 02:03 AM PST
The long wait is over! Brown Eyed Girls' JeA has finally embarked on her solo activities by performing her debut track, "While You Were Asleep" on this week's 'M! Countdown'.
"While You Were Asleep" is the title track for JeA's first solo album, 'Just JeA'. Her solo debut album contains a total of five tracks including the pre-released track "Let's Hug" with Jung Yeop, a duet with R&B singer Eric Benet, "Days & Nights", "Silent Stalker" and "Stray Cat."
According to her agency, "To show the diva JeA, we enlisted the help of some of the best staff in Korea and abroad to create her album and we expect it to be received as a top-notch album."
Check out her performance below!
Kim So Jung returns with "Beautiful Love" on 'M! Countdown'
Posted: 10 Jan 2013 01:57 AM PST
After the short promotions for second single "Blap", singer Kim So Jung, who rose to stardom on Superstar K2, is back with new single "Beautiful Love"!
Expressing the feelings of first love, "Beautiful Love" serves as a heart-warming song perfect for the winter season. It is a mid-tempo ballad with a pleasant acoustic feel matching the singer's sweet voice well.
Check out her performance below!
Boyfriend returns with "I Yah" on 'M! Countdown'
Posted: 10 Jan 2013 01:56 AM PST
Shedding their pretty boy image, idol group Boyfriend is back with a fierce and manlier look for latest title song, "I Yah"!
"I Yah" is the title track to the group's repackaged album of the same name. It is a powerful and upbeat dance number produced by Sweetune and features a prominent guitar riff and has a funky sound.
According to the group's agency, Starship Entertainment, Boyfriend will show its cold yet noble and pure side continuing the powerful concept seen in "Janus".
Check out their performance below!
Amber poses with princess Krystal
Posted: 10 Jan 2013 01:36 AM PST
f(x)'s charismatic rapper Amber is back with some new photos.
This time she poses with her team's maknae Krystal.
She mentioned,"Got a picture with the princess.. Her royal highness...ish"~
The girls show their pouty faces in their latest photos.Fans commented after seeing the pics,"so cute","Princess Krystal jjang","Amber is funny" and etc.
Infinite's L revealed an unedited photo of Sungjong
Posted: 10 Jan 2013 12:30 AM PST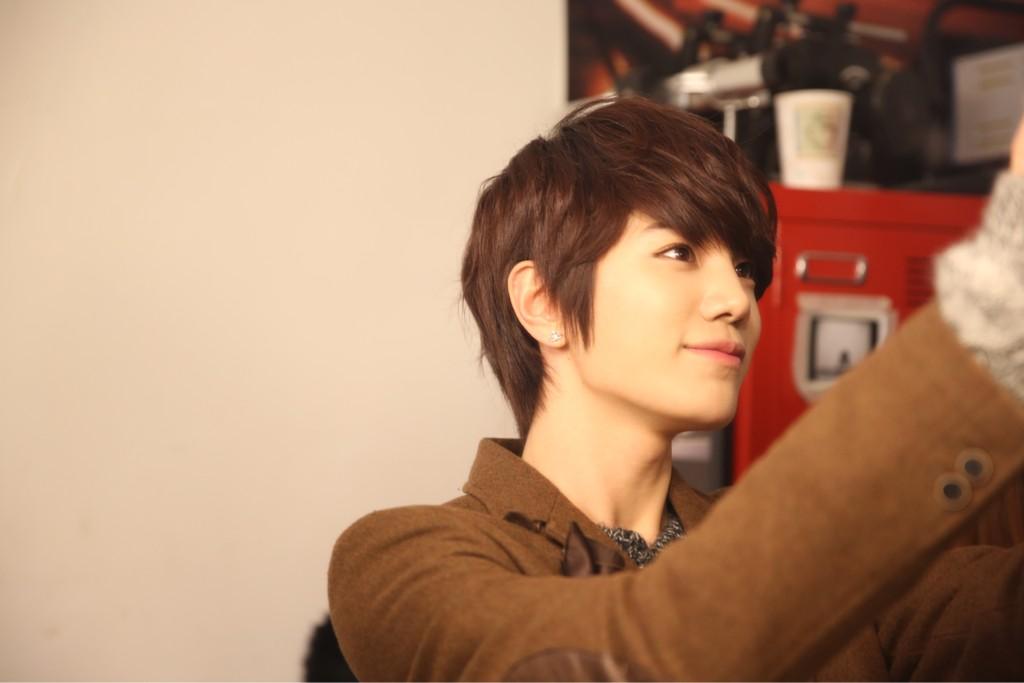 Infinite's L revealed a photo of his member Sungjong
On January 9th, L uploaded a photo on his twitter along with a tweet,"Original. Don't need to be modified, our maknae".
In the photo, Sungjong is seen wearing a brown jacket while looking at somewhere else. His white skin and clear facial features have wowed fans and made it hard to believe that this is an untouched photo.
Fans commented after seeing the photo,"He's so pretty, even prettier than me","He looks like a girl","He's really adored by his hyung", and so on
Written by Clover @ DKPOPNEWS.NET
2PM to comeback with 3rd full album
Posted: 09 Jan 2013 11:56 PM PST
JYP's male group 2PM

will make a come

back

after

nearly

2

years

of

absence

from

the

Korean

stage.
According to

the latest report

from

JYP

Entertainment

,

2PM

is preparing

for

the

release

of

the

third

full album

.

However

,

the

comeback date is still kept in secret,

JYP

only hint

"

this year

"

.
Since releasing

the

second

album

Hands

Up

on July 2011,

2PM

has

focused on

Asian

tour

as

well

as

promotional activities

abroad

,

especially

in

Japan

.

Originally

,
in the

second half of 2012,

JYP

planned

a comeback for

2PM

but had

to

postpone

due

to

Nichkhun's

car

accident

.

This time, t

he more likely

2PM

will release

their

third

album

after completing the

tour

in

Japan

.
Currently,
2PM

is still busy

preparing their

Japanese tour

and

second

Japanese

album

titled

Legend

Of

2PM

which planned to be out on February

13.
Source: nate
Written by Jenny@dkpopnews
Yoo Seung Ho and Park Shin Hye to star in So Ji Sub's new MV
Posted: 09 Jan 2013 11:30 PM PST
As mentioned before, So Ji Sub will release a rap single on January.

He

will appear

through

a special

project

of

Mnet music channel

named

'

Collab

One'

.
It has been reported that Yoo Seung Ho and Park Shin Hye will star in the music video, garnering much attention from fans
As revealed, Yoo Seung Ho with nickname "Little So Ji Sub" will play the young So Ji Sub in the MV, So Ji Sub himself as a man who is at the age of 30 while Park Shin Hye falls in love with him.
The MV will be released in late January while the the 'behind-the-scene' and making videos will be broadcasted on the show
'Music Triangle
', started from January 9.
Source: newsen
Written by Jenny@dkpopnews
SECRET's Sunhwa and Dal Shabet's Ah Young cast in 'Advertisement Genius, Lee Tae Baek'
Posted: 09 Jan 2013 11:00 PM PST
SECRET's Sunhwa and Dal Shabet's Ah Young will be making their acting debut through upcoming KBS drama, 'Advertisement Genius, Lee Tae Baek'.
Sunhwa has been cast in the series as Lee Soran, the younger sister of Lee Tae Baek (played by Jin Goo), who is a narrator model dreaming of becoming an actress. With her talkative personality, Lee So Ran always makes some sort of issue, but truly loves her family.
Sunhwa shared, Because this is the first time I am trying acting, I am very nervous, but I am going to do my very best and try to learn a lot from this experience. My character, Lee Soran, is very similar to my real personality so I already feel a sense of familiarity with her. I will work hard to hear from others that Han Sunhwa has potential."
Also making her official acting debut is Ah Young who will play the role of Gong Sun Hye, a junior in an art high school. She works as a secretary for an advertising agency run by Ma Jin Ga (played by Go Chang Suk).
Ah Young commented, "I'm very nervous because I'm making my acting debut in this series. I'm learning a lot from other actors. I'm so excited about this new challenge. Please give me your support."
Rain given one-week military probation
Posted: 09 Jan 2013 10:30 PM PST
Favorable treatment for celebrities serving out their military obligations has been in the spotlight these days. And with the ongoing criticisms over singer Rain's number of leaves from the military, the Ministry of National Defense has decided to give the star a week of
military probation.
He will be confined to the army base for a week where he is expected to do some self-reflection and introspection. The ministry acknowledged that Rain had violated regulations by having private or personal meetings while on his official military duty.
Rain will continue out his mandatory military service until this coming July.
Source:
KBS
2AM's 'Voice' tops Tower Records chart
Posted: 09 Jan 2013 10:00 PM PST
Ballad group 2AM has been garnering noticeable popularity in Japan, reigning atop the coveted Tower Records chart.
On January 9th, Tower Records, which is one of the biggest music publishers in Japan, announced that 2AM topped in their combined album chart with its first Japanese album, 'Voice'. In addition, the album ranked 3rd in Oricon's Daily Chart on the same day.
A representative stated, "Since 2AM debuted in Japan in January last year with 'Never Let You Go,' they've ranked in the top ten on the Oricon Weekly Chart with all four singles released. They ranked in the top ten of the chart with the first album this time."
2AM's new album 'Voice' includes 12 tracks in total, and the title track was written by 2AM's Lee Changmin himself.